Lubrication Brushes in PA6 or VA for Chain Lubrication
High quality Lubrication Brush from our own production at reasonable prices.
Conventional lubrication brushes usually have quite short - and therefore stiff bristles, which have a sufficiently long service life when applying lubricant to fine-grained drive chains.
In the case of large chains, or chains which are provided with additional interfering contours such as driving elements or support lugs, these are only conditionally suitable. Because the brush bristles are strongly deflected by passing, they wear out in a very short time.
Lubricating brushes with long bristles are able to withstand constant flexing movements for a considerably longer time, thus considerably expanding the field of application of lubricating brushes.
The use of VA spring elements on oil brushes with particularly long bristles keeps the entire brush flexible and adaptable without excessive spreading of the bristles.
In addition, the high-quality, corrugated bristles of the extra-long STW lubricant brush have a significantly increased oil holding and holding capacity that improves the "buffering" and even release of the lubricant.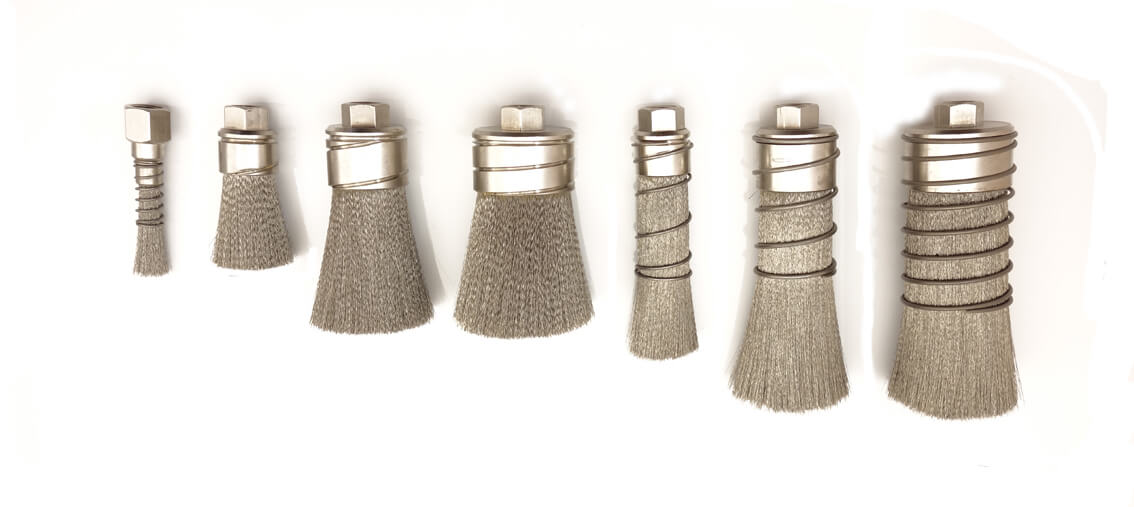 Stainless brush socket

Fastening thread available in 1/8" BSP, M8, M8x1

Bristles available in PA and VA
Brush Type
DN
L1
L2
Dmax
Order-No. PA
Order-No. VA
PL 1/4"
Ø6
30
56
Ø15
012 06 0130 50
012 06 0130 02
PL 5/8"
Ø16
60
81
Ø20
012 16 0160 50
012 16 0160 02
PL 1" PA
Ø25
60
86
Ø28
012 25 0160 50
PL 1" VA
Ø25
70
96
Ø28
012 25 0160 02
PL 1 1/4"
Ø32
70
96
Ø35
012 32 0170 50
012 32 0170 02
PK 5/8"
Ø16
30
51
Ø18
012 16 0130 50
012 16 0130 02
PK 1"
Ø25
45
71
Ø25
012 25 0145 50
012 25 0145 02
PK 1 1/4"
Ø32
45
71
Ø32
012 32 0145 50
012 32 0145 02