SputtMiK Standard
Standard minimal-quantity sprayer for universal use. The handy desingn in the high-quality stainless steel housing and the ergonomically designed operating elements make it a versatile lubricator for the most diverse applications in your company.
Infinitely adjustable piston dosing pumps allow for the most precise medium discharge possible in the range of minimum quantity lubrication with a volume of 0-25 microliter / stroke of the STW metering pump
KBP25
or 0-100 microliter / stroke with the metering pump
KBP100
.
The metering of the medium by means of finely adjustable piston pumps and the spray air, which can be adjusted independently allows a mist-free adjustment of the spray jet.
Suitable for use in the finishing industry, such as turning, milling, tapping, etc., during forming, such as tapping, bending, pressing, punching, cutting ... When applying slide media in assembly, corrosion protection media after processing Parts, lubrication of transport conveyor or drive chains, binding of dusts...
There are so many areas in which the SputtMiK minimum quantity spraying unit has already proven its worth.
How the system works?
| Tank-Type | ØA. | Dim. B |
| --- | --- | --- |
| TopTank 1000 | 105 mm | 210 mm |
| TopTank 2000 | 138 mm | 236 mm |
| TopTank 3000 | 155 mm | 270 mm |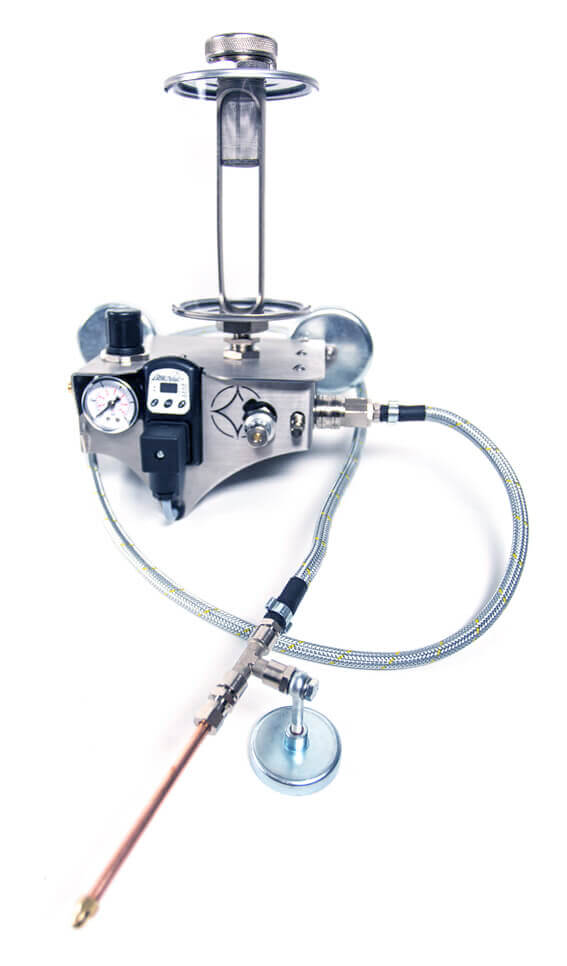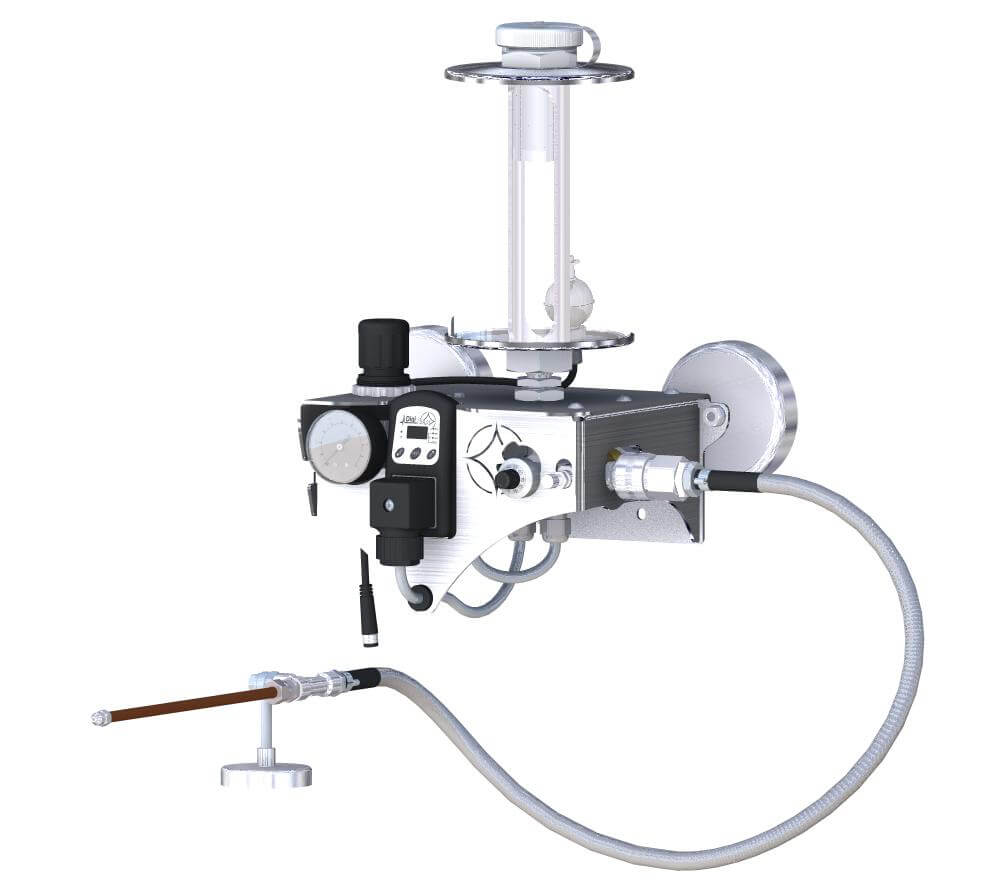 SputtMiK Standard 1P100
1 Pump Unit with the most frequently selected equipment:
A Metering Pump with Pressure Reducer, Solenoid Valves and digital Frequency Generator DigiTimer
1L Reservoir TopTank1000
2m Metal Sheath coaxial Hose with one-hand Coaxial-Coupling
Precision Cu Nozzle (round Two-Component Jet Nozzle) Length 200mm
Magnetic Nozzle Holder Ø50 mm
Magnetic-Stator for the complete Unit (2 x Ø80)
| Set | Voltage | Order-No. |
| --- | --- | --- |
| Set-1P100 24 | 24 V DC | 04 0101 01024 |
| Set-1P100 230 | 230 V AC | 04 0101 01230 |
SputtMiK Standard 2P100
2 Pump Unit with the most frequently selected equipment:
Two Metering Pumps with Pressure Reducer, Solenoid Valves and digital Frequency Generator DigiTimer
1L Reservoir TopTank1000
2m Metal Sheath coaxial Hoses with one-hand Coaxial-Coupling
Precision Cu Nozzles (round Two-Component Jet Nozzle) Length 200mm
Magnetic Nozzle Holders Ø50 mm
Magnetic-Stator for the complete Unit (2 x Ø80)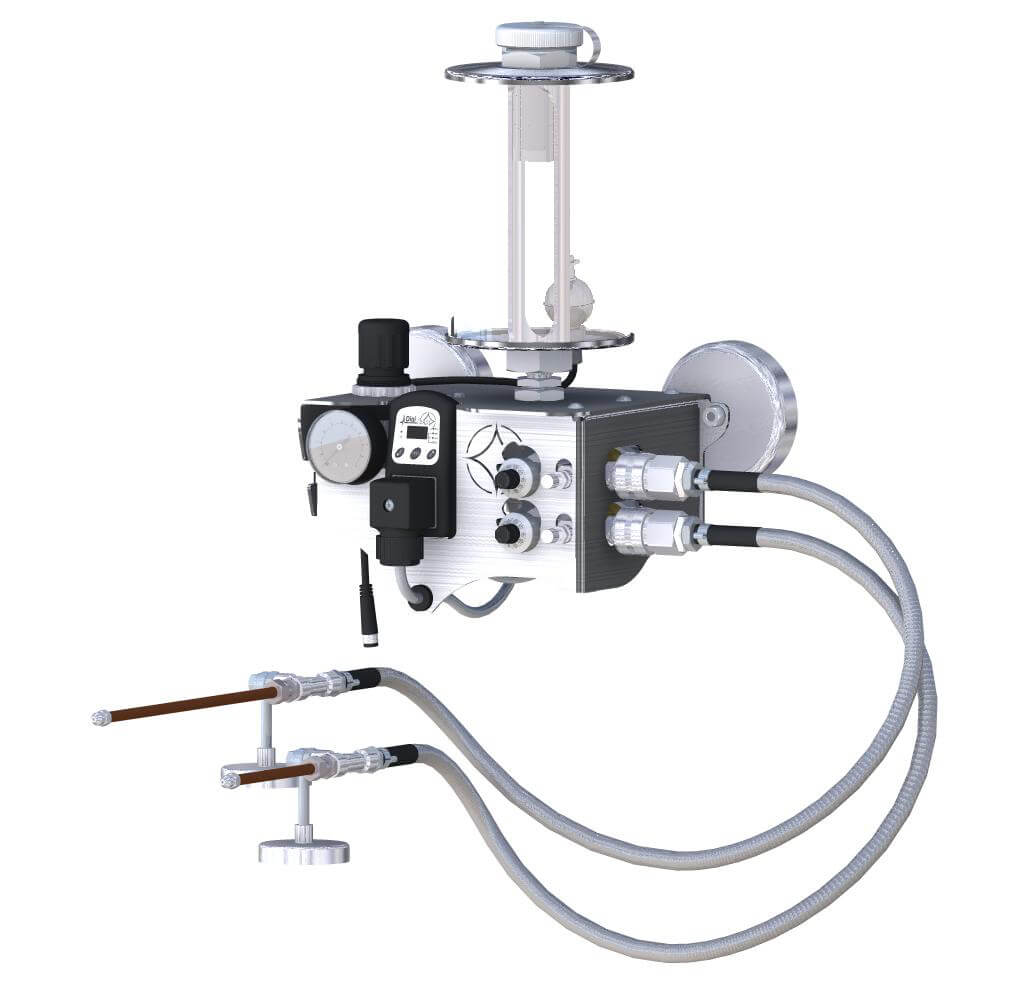 | Set | Voltage | Order-No. |
| --- | --- | --- |
| Set-2P100 24 | 24 V DC | 04 0201 01024 |
| Set-2P100 230 | 230 V AC | 04 0201 01230 |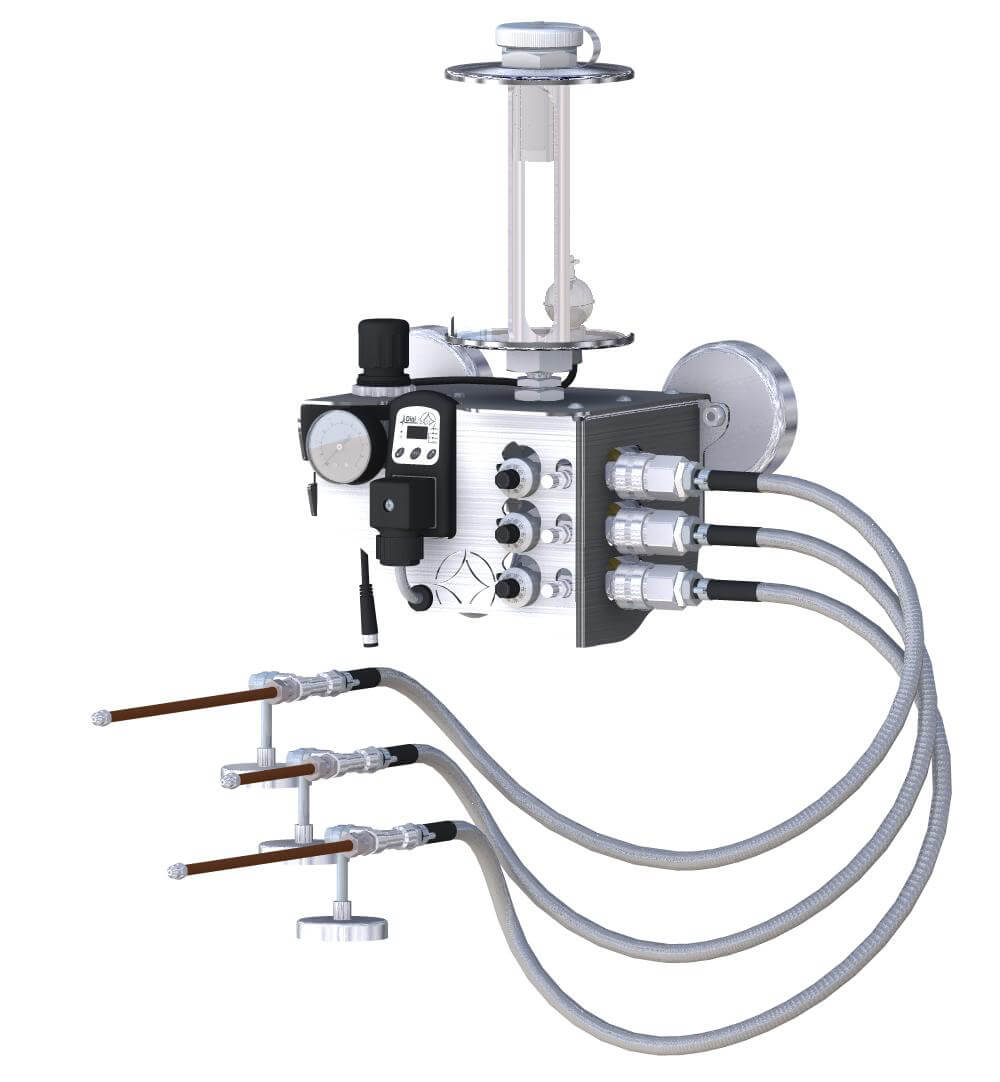 SputtMiK Standard 3P100
3 Pump Unit with the most frequently selected equipment:
Three Metering Pumps with Pressure Reducer, Solenoid Valves and digital Frequency Generator DigiTimer
1L Reservoir TopTank1000
2m Metal Sheath coaxial Hoses with one-hand Coaxial-Coupling
Precision Cu Nozzles (round Two-Component Jet Nozzle) Length 200mm
Magnetic Nozzle Holders Ø50 mm
Magnetic-Stator for the complete Unit (2 x Ø80)
| Set | Voltage | Order-No. |
| --- | --- | --- |
| Set-3P100 24 | 24 V DC | 04 0301 01024 |
| Set-3P100 230 | 230 V AC | 04 0301 01230 |
SputtMiK Standard 4P100
4 Pump Unit with the most frequently selected equipment:
Four Metering Pumps with Pressure Reducer, Solenoid Valves and digital Frequency Generator DigiTimer
1L Reservoir TopTank1000
2m Metal Sheath coaxial Hoses with one-hand Coaxial-Coupling
Precision Cu Nozzles (round Two-Component Jet Nozzle) Length 200mm
Magnetic Nozzle Holders Ø50 mm
Magnetic-Stator for the complete Unit (2 x Ø80)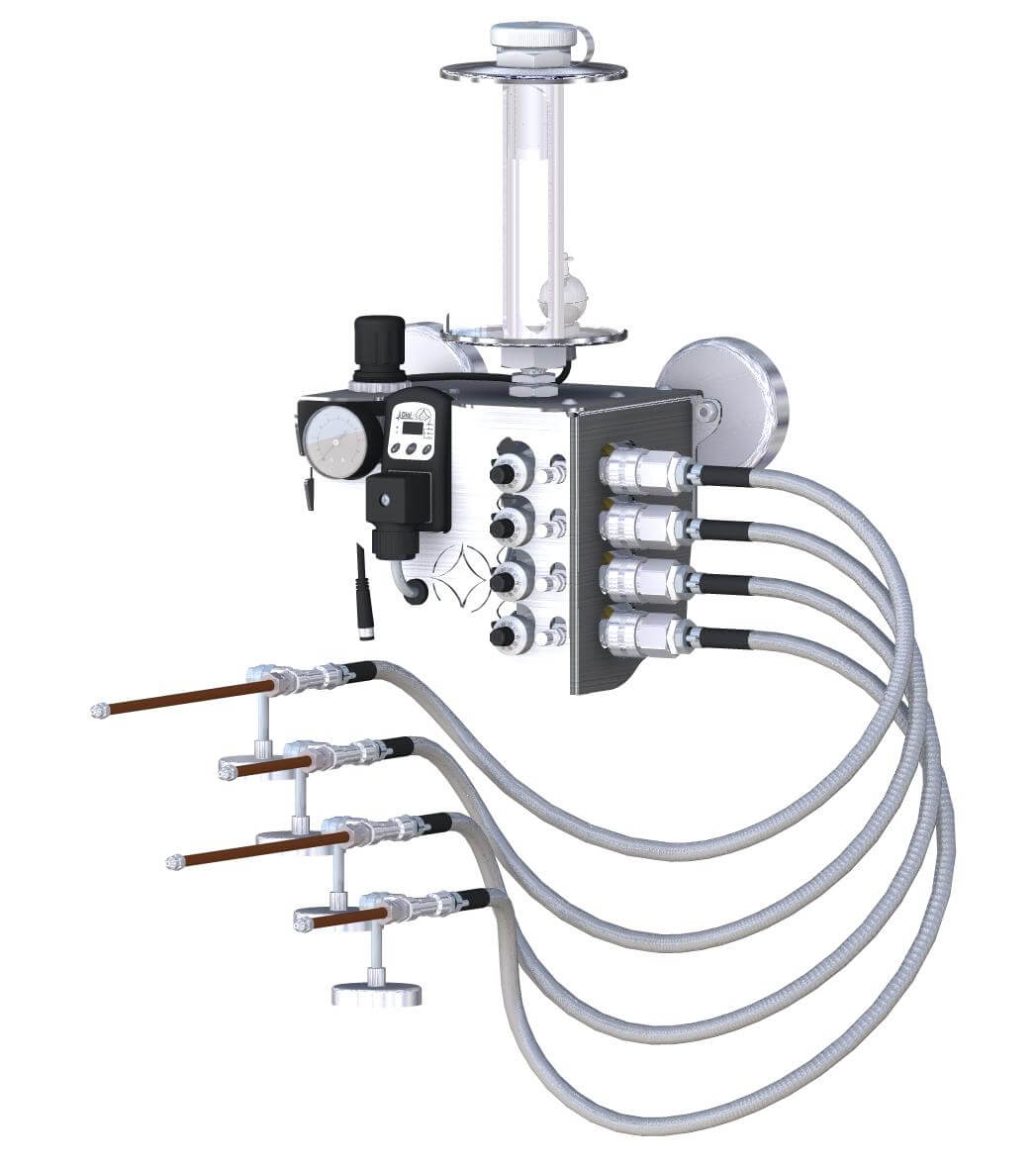 | Set | Voltage | Order-No. |
| --- | --- | --- |
| Set-4P100 24 | 24 V DC | 04 0401 01024 |
| Set-4P100 230 | 230 V AC | 04 0401 01230 |