Lubrication Brushes with PA6 bristles for Chain Lubrication
High quality Lubrication Brush from our own production at reasonable prices.
Conventional lubrication brushes usually have quite short - and therefore stiff bristles, which have a sufficiently long service life when applying lubricant to fine-grained drive chains.
In the case of large chains, or chains which are provided with additional interfering contours such as driving elements or support lugs, these are only conditionally suitable. Because the brush bristles are strongly deflected by passing, they wear out in a very short time.
Lubricating brushes with long bristles are able to withstand constant flexing movements for a considerably longer time, thus considerably expanding the field of application of lubricating brushes.
The use of VA spring elements on oil brushes with particularly long bristles keeps the entire brush flexible and adaptable without excessive spreading of the bristles.
In addition, the high-quality, corrugated bristles of the extra-long STW lubricant brush have a significantly increased oil holding and holding capacity that improves the "buffering" and even release of the lubricant.
Stainless brush socket

Fastening thread available in 1/8" BSP, M8, M8x1

Bristles available in PA and VA
Lubrication Brushes with VA bristles for Chain Lubrication
Lubricating brushes with stainless steel bristles are particularly durable and resistant to high temperatures.
Above all, single bristles of this oil brush - if one should be lost - are easy to detect, which is a demanded feature of these high-quality lubrication brushes, particularly in the areas of food production.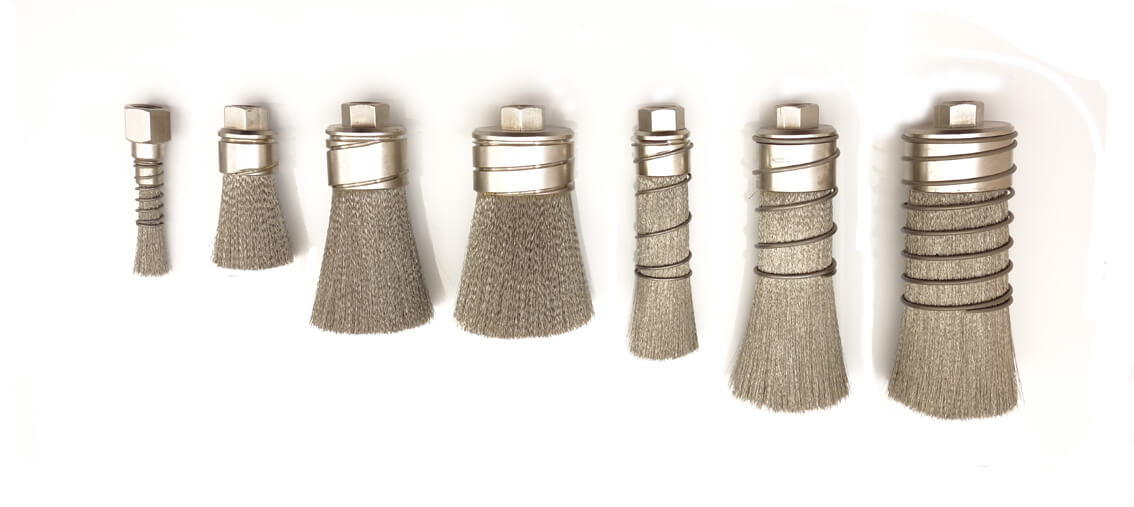 Stainless brush socket

Fastening thread available in 1/8" BSP, M8, M8x1

Bristles available in PA and VA
Roller-Lubrication-Brushes with PA bristles
Roller brush in different widths.
The lubricating oil is fed to the brush roller through the axially adjustable roller axis and distributed evenly.
The use of corrugated PA bristles for the STW roller brushes show a particularly good oil holding and buffering capacity as well as particularly good rolling characteristics for a long service life.
Mounted on the optional Flexi mounting bracket ensures good rolling contact at minimum contact pressure.