Lubricating gears
Continuous lubrication of the tooth flanks of e.g. Gears, racks or toothed turntables.
It is easiest to supply the tooth flanks of gears with a uniform film of lubricating grease with high-quality, open-pored lubrication gears from STW.
Special abrasion-resistant foams and high-quality polymer bearings guarantee a long service life.
The connection to your grease dosing pump or central lubrication system is made by simple high-pressure screw connections and high-pressure hoses. In the lubrication unit, the grease is routed through the hollow axle into special channels of the foam gears and distributed in the foam so as to be uniformly applied to the gear, rack or sprocket.
Available for all straight or oblique involute gears with the modules m = 2 to 40.
temperature range: -30°C ... +140°C

Available as standard for module m = 2 ... 30

Standard for straight, diagonally right and diagonally left gears

Special shapes on request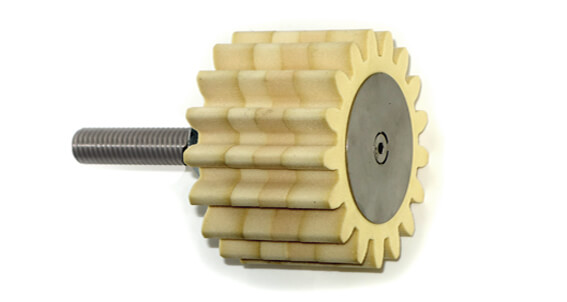 | | width* | Axis external thread | inner thread | order-No. |
| --- | --- | --- | --- | --- |
| Modul 2 | 20 mm | M10 | M6 | 012 13 02 A |
| Modul 3 | 30 mm | M10 | M6 | 012 13 03 A |
| Modul 4 | 40 mm | M10 | M6 | 012 13 04 A |
| Modul 5 | 50 mm | M16 | 1/8" | 012 13 05 A |
| Modul 6 | 60 mm | M16 | 1/8" | 012 13 06 A |
| Modul 8 | 80 mm | M16 | 1/8" | 012 13 08 A |
| Modul 10 | 100 mm | M16 | 1/8" | 012 13 10 A |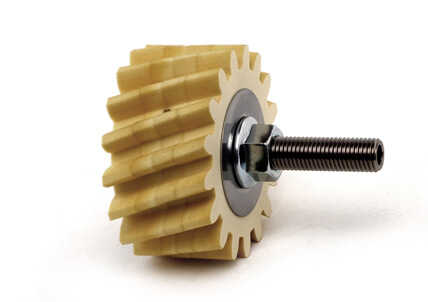 | | width* | Axis external thread | inner thread | diagonally right | diagonally left |
| --- | --- | --- | --- | --- | --- |
| Modul 2 | 20 mm | M10 | M6 | 012 13 02 AR | 012 13 02 AL |
| Modul 3 | 30 mm | M10 | M6 | 012 13 03 AR | 012 13 03 AL |
| Modul 4 | 40 mm | M10 | M6 | 012 13 04 AR | 012 13 04 AL |
| Modul 5 | 50 mm | M16 | 1/8" | 012 13 05 AR | 012 13 05 AL |
| Modul 6 | 60 mm | M16 | 1/8" | 012 13 06 AR | 012 13 06 AL |
| Modul 8 | 80 mm | M16 | 1/8" | 012 13 08 AR | 012 13 08 AL |
| Modul 10 | 100 mm | M16 | 1/8" | 012 13 10 AR | 012 13 10 AL |